Coup de Grace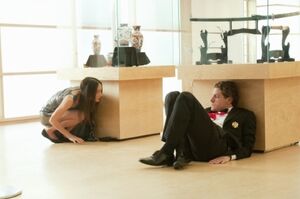 Episode No.
Series
13
1x13
| | |
| --- | --- |
| Broadcast Date | February 3, 2011 |
Writer
Albert Kim
Director
Nathan Hope
Chronological Information
Coup de Grace is the thirteenth episode of Nikita, and the thirteenth episode of the first season. It premiered to American audiences on February 3, 2011 at 2.40 million viewers.
In the second episode of the mid-season, Sara gives Nikita her first assignment as a fully fledged agent of the Division. She is asked to assassinate Prince Eric of Georgia at a museum gala in New York City. So, Nikita's job is actually to figure out how to stop the plot to kill him. She hopes she can get some help from the Prince's wife, the Princess, but it turns out she's in on the plot and incapacitates Nikita with a Taser. Upon waking up, Nikita subdues her captor and quickly comes to the rescue of the Prince just as members of the Division raid the gala event under the guise that they are Georgian rebels.
Safe for the moment, the Prince explains his marriage was merely a business arrangement and it's his assistant he truly loves. They're still in danger, but he won't leave the museum without her. The two set to arrange for her, but the Division comes after Nikita and she defends herself with an ancient sword in the museum, and she looks hot while doing it. Next the New York Police raid the museum and try to quell the fake rebel situation. Michael appears on the scene too.
Michael and Nikita both agree they have jobs to do and will try not to get in each other's way. It's tricky for Nikita and Alex to save the Prince while the Division is after them, but in the end they prevail. In the aftermath, Alex is once again the go-between for Nikita and Michael, but both are in the dark about the other's apparent intrigue.
Memorable Quotes
Edit
Ashton Holmes (Thom) is no longer credited as a series regular.

Although credited, Aaron Stanford (Birkhoff), Melinda Clarke (Amanda), and Tiffany Hines (Jaden) do not appear in this episode.
Goofs and Errors
Allusions and Outside References
Edit
The expression coup de grâce means a death blow intended to end the suffering of a wounded creature. The phrase can refer to the killing of civilians or soldiers, friends or enemies, with or without the consent of the sufferer.
"In This Time" by Terry Lynn
Main Cast
Edit
Guest Cast
Edit
Reception
Edit
International Air Dates
Edit
Canada: Thursday, February 3, 2011 on A

Australia: Thursday, June 16, 2011 on GO!

United Kingdom: Wednesday, June 22, 2011 on Sky LIVING/Sky LIVING HD
External Links
Edit
Read more: