One Way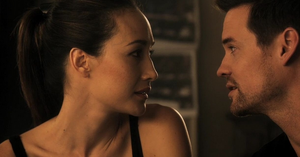 | | |
| --- | --- |
| Broadcast Date | November 11, 2010 |
Writer
Albert Kim
Director
Ken Fink
Chronological Information
One Way is the ninth episode of Nikita, and the ninth episode of the first season. It premiered to American audiences on November 11, 2011 at 2.33 million viewers.
Michael goes after the terrorist who killed his family, and Nikita decides to help him. When Percy learns of her involvement, he sends agents to kill her, compromising the mission. Meanwhile, Alex puts Jaden at risk when she lies to cover her own slip-up while going through Division medical files.
Michael is sent on an unofficial mission to Tashkent, Uzbekistan to kill Kassim Tariq, the terrorist responsible for killing his family. Nikita arrives to assist Michael in the revenge mission. When Percy learns of this, he botches the operation by sending a team of agents, which leads to Kassim kidnapping Michael. Nikita eventually finds him, but Kassim has disappeared.
He learns Kassim is going to board a flight to Yemen, but when he tries to fulfil his revenge, Nikita, knowing Michael will die in the process and wants to save him, alerts the airport authorities to apprehend him. Meanwhile, Alex nearly blows her cover when she is caught snooping through medical files to obtain Michael's transmitter frequency. Alex blackmails Jaden into helping her. In the end, Michael returns to Division, and tells Percy he should have never trusted Nikita in the first place.
Memorable Quotes
Edit
Although credited, Ashton Holmes (Thom) and Aaron Stanford (Birkhoff) do not appear in this episode.
Goofs and Errors
Edit
The driver seat for cars in Uzbekistan are on the left side of the car (European standards) as suppose to the ones driven in this episode (American Standards).
Allusions and Outside References Music
"Cosmic Love" by Florence + The Machine

"El Nur" by Soulico

"Shadows" by Warpaint
Main Cast
Edit
Guest Cast
Edit
Reception
Edit
International Air Dates
Edit
Canada: Thursday, November 11, 2010 on A
United Kingdom: December 2, 2010 on LIVING/LIVING HD
Australia: Wednesday, May 18, 2011 on GO!
External Links
Edit
Read more: