The Next Seduction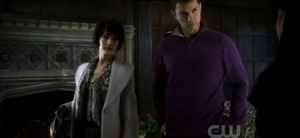 Episode No.
Series
14
1x14
| | |
| --- | --- |
| Broadcast Date | February 10, 2011 |
Writer
Carlos Coto
Director
David Solomon
Chronological Information
The Next Seduction is the fourteenth episode of Nikita, and the fourteenth episode of the first season. It premiered to American audiences on February 10, 2011 at 1.89 million viewers.
Nikita and Michael are both intent on getting Alex to live the lie and want her to become closer to Nathan. Michael comes by Alex's dinner date to explain that she is his prostitute and that he is her pimp.
This brings a flashback to an old mission, showing Michael pimping Nikita to a guy named Voss.
Ryan Fletcher receives some information that directs him to Voss and his dealing with bombs. The CIA doesn't let him pursue Voss so he asks Nikita to do it for him. She dislikes the idea because it means revisiting that awkward part of her past but she agrees to do it.
Voss isn't as bad as she remembers and is trying to get away from Gogol, the place where he designed the bomb and is now stealing it in order to get amnesty from America. Voss convinces Nikita that he is doing something good, rather than evil and Nikita is convinced when Gogol tries to kill them. They escape but must put up a fight. Percy ends up being the guy who planted the information that Ryan found.
Division kills Voss and takes the bomb, but makes it look like Gogol did it. Ryan lets Gogol and Division fight it out while he gets the bomb to safety and is promoted for his hard work. Nikita feels that her life has been mostly meaningless and that she has lived a mostly fake life instead of having real relationships, etc. Ryan reassures her and gives her a kiss.
Nikita tells Alex that she should go ahead and live her life and Alex runs to Nathan.
Memorable Quotes
Edit
Although credited, Aaron Stanford (Birkhoff), Melinda Clarke (Amanda), and Tiffany Hines (Jaden) do not appear in this episode.
Goofs and Errors
Allusions and Outside References
Edit
Nikita's short-cropped wig is an homage to the original Nikita.
"Breaking My Own Heart" by Duffy

"Here To Stay" by Lenka

"Melted Away" by Bel Rev
Main Cast
Edit
Guest Cast
Edit
Reception
Edit
International Air Dates
Edit
Canada: Thursday, February 10, 2011 on A

United Kingdom: Wednesday, June 29, 2011 on Sky LIVING/Sky LIVING HD
External Links
Edit
Read more: